1. Rangkaian Audio Amplifier 100 Watt adalah rangkaian elektronika yang berfungsi memperkuat sinyal audio yang masih lemah sehingga bisa asyik didengar oleh kita. Audio amplifier nyaris terdapat pada hampir semua perangkat elektronika audio visual. Jika Anda ingin memperkuat sinyal audio pada perangkat audio visual Anda, cobalah gunakan / tambahkan audio amplifier ini. Apalagi bila Anda suka mendengarkan musik so pasti Anda ingin mendengarkan suara musik yang mantap di telinga.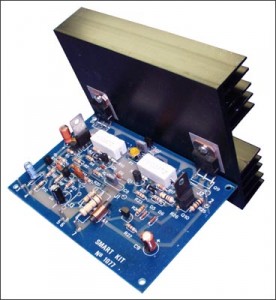 Rangkaian audio amplifier mungkin sudah tidak asing lagi bagi Anda yang fan audio dan sudah banyak tersebar di internet dan buku-buku, tapi
Rangkaian Audio Amplifier 100 Watt
ini jelas beda dengan yang pernah Anda lihat / baca. Untuk lebih jelasnya bisa Anda lihat dan pelajari gambar skemanya di bawah ini.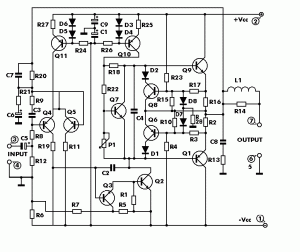 Berikut ini daftar komponen yang diperlukan :
R1 = 1,2 Kilo Ohm
R2 = 0,47 Ohm
R3 = 220 Ohm
R4 = 3,9 Kilo Ohm
R5 = 2,2 Kilo Ohm
R6 = 2,2 Kilo Ohm
R7 = 10 Kilo Ohm
R8 = 4,7 Kilo Ohm
R9 = 150 Ohm
R10 = 39 Ohm
R11 = 3,3 Kilo Ohm
R12 = 10 Kilo Ohm
R13 = 4,7 Ohm
R14 = 1 Ohm
R15 = 39 Ohm
R16 = 1 Ohm
R17 = 220 Ohm
R18 = 22 Ohm
R19 = 1,2 Kilo Ohm
R20 = 10 Kilo Ohm
R21 = 220 Ohm
R22 = 680 Ohm
R23 = 3,9 Kilo Ohm
R24 = 18 Kilo Ohm
R25 = 100 Ohm
R26 = 18 Kilo Ohm
R27 = 680 Ohm
R28 = 1,2 Kilo Ohm
P1 = 1 Kilo Ohm
D1 = 1N4002-7
D2 = 1N4002-7
D3 = 1N4148
D4 = 1N4148
D5 = 1N4148
D6 = 1N4148
D7 = 1N4148
D8 = 1N4148
Q1 = BDW84D
Q2 = BD829
Q3 = BC546
Q4 = BC556
Q5 = BC556
Q6 = BC556
Q7 = BC548
Q8 = BC546
Q9 = BDW83D
Q10 = BD830
Q11 = BC556
C1 = 10uF/63V
C2 = 33pF
C3 = 270pF
C4 = 100nF
C5 = 2,2uF/63V
C6 = 100uF/35V
C7 = 120pF
C8 = 100nF
C9 = 10uF/63V




2. Rangkaian Pengusir Tikus
.
Daftar komponen Rangkaian Pengusir Tikus elektronika:
R1 … 1K
R2,R3 … 15K
C1 … 1nF
C2 … 1uF/16V
C3 … 10nF
C4 … 220nF
C5 … 1000uF/16V
D1..D4 … 1N 4001
IC1 … 555
Tr1 … Trafo 6V/200mA
TD1 … speaker tweeter bentuk corong
F1 … Fuse/sekring 50 mA

Rangkaian Pengusir Tikus Elektronik adalah sebuah oscilator yang mengeluarkan gelombang ultrasonic pada kisaran frekuensi 20 – 40 KHz. Gelombang ultrasonic yang dihasilkannya tidak akan terdengar di telinga kita tapi akan sangat mengganggu sekali bagi telinga tikus.
Untuk menghindari tikus menjadi kebal terhadap Rangkaian Pengusir Tikus Elektronik, maka Base Frequency dimodulir dengan signal 50 Hz yang didapat dari frekuensi tegangan jala-jala PLN melalui kapasitor C4 sehingga akan dihasilkan ayunan frekuensi antara 20 – 40 KHz secara periodik. Efek yang dialami tikus akan terasa sangat dasyat, seolah-olah seperti kita berada pada sebuah konser music amburadul dengan irama yang acak-acakan dan tidak bisa dinikmati sama sekali, plus sa'at itu kita lagi sakit gigi!! Bisa dibayangkan, music trust-metal mungkin masih jauh lebih indah dibanding suara alat ini
Jantung rangkaian pengusir tikus elektronik adalah sebuah IC tipe 555. Gunakan loudspeaker dari piezo electric atau speaker tweeter bentuk corong agar frekuensi ultrasonic-nya lebih nendang dan efektif. Pengusir tikus elektronik ini efektif untuk ruangan seluas maksimal 200 m2 asal penempatannya tepat. Bisa diletakkan di pojok atas ruangan agar frekuensi noise-nya bisa menyebar ke seluruh ruangan tanpa halangan. Nyalakan secara terus menerus untuk menjaga agar tikus tidak datang lagi, tidak usah khawatir dengan konsumsi listriknya karena daya listrik yang dibutuhkan cukup rendah, masih lebih besar lampu bohlam 5 watt/220 volt. Pengaturan frekuensi dsb. tidak diperlukan pada Rangkaian Pengusir Tikus Elektronik ini.
3. Skema Saklar On-Off Digital | Saklar On-Off Digital ini merupakan saklar yang bekerja untuk menghubungkan arus listrik dan memutus arus listrik dari sumbernya. Cara kerja dari rangkaian ini adalah, apabila pada switch on/off ditekan maka relay akan tertutup atau dalam kodisi on, dan jika ditekan kembali maka relay akan terbuka atau memutus aliran listrik ke kondisi off.

Rangkaian ini sangat sederhana hanya terdiri dari beberapa komponen. Anda bisa menggabungkan atau menerapkan aplikasi rangkaian ini misalnya ke peralatan Audio (amplifier) yang pernah anda rakit sebelumnya ataupun diaplikasikan untuk peralatan elektronik lainnya, sehingga anda tidak lagi menggunakan saklar manual, lebih kereeen khan ?...

Pada umumya peralatan elektronika modern saat ini sudah tidak banyak yang dioperasikan secara manual (saklar manual) dan tergeser oleh peralatan elektronika yang dioperasikan digital. Rangkaian saklar on/off dibawah ini adalah salah satu contoh operasi digital :


Skema Rangkaian Saklar On-Off Digital
4. Rangkaian Elektronika Pengusir Nyamuk
Rangkaian elektronika pengusir nyamuk
yang saya berikan ini termasuk dalam
rangkaian elektronika
yang sederhana. Karena kesederhanaannya inilah yang membuatnya mudah untuk dipelajari bagi seorang pemula sekalipun. Selain itu, untuk membuatnya tidak diperlukan biaya tinggi alias sangat murah. Namun demikian aplikasi dari rangkaian ini tentunya tetap sangat bermanfaat dalam kehidupan sehari-hari kita yaitu mengusir nyamuk dari rumah kita. Bahkan dengan alat ini kita juga dapat menggunakannya diluar ruangan, semisal ketika ngeronda ataupun sekedar santai di halaman.
Selain sebagai pengusir nyamuk, rangkaian ini juga bisa digunakan pada jenis serangga ataupun jenis binatang penggangu lainnya. Contohnya adalah pada kecoa dan tikus. Prinsip utama bagaimana rangkaian ini bekerja adalah dengan berdasarkan bahwa serangga atau jenis binatang pengganggu lainnya sangatlah sensitif kepada beberapa frekuensi suara, terutama frekuensi suara yang tinggi. Dengan demikian, disaat rangkaian ini dihidupkan akan membuat jenis-jenis hewan tersebut merasa terganggu dan menjauhkan diri dari alat ini. Berbeda dengan manusia yang tidak dapat mendengar frekuensi suara yang tinggi, maka tentunya tidak akan menyebabkan gangguan suara bagi kita yang berada didekatnya sekalipun.
Untuk gambar dari
rangkaian elektronika pengusir nyamuk
sendiri, banyak rupanya. Namun saya coba pilihkan yang paling menarik untuk dicoba aplikasikan yaitu bekerjanya secara otomatis karena dikendalikan oleh Light Depending Resistor/ LDR. Alat ini akan menyala dengan sendirinya bila berada di lokasi yang gelap, dan sebaliknya akan mati bila dilokasi terang. Dengan begini alat akan otomatis bekerja jika lampu kamar kita dimatikan.
Perlu diingat kembali ya bahwa rangkaian ini menggunakan speaker untuk mengeluarkan frekuensi yang sama dikeluarkan oleh nyamuk jantan. Pada waktu bukannya musim untuk kawin, maka nyamuk betina akan menjauhi frekuensi ini. Dengan begitu nyamuk betina yang menghisap darah tidak akan ada disekitar alat ini, sedangkan nyamuk jantan memang tidak menghisap darah. Namun pada musim kawin yang terjadi adalah sebaliknya yaitu nyamuk akan tertarik untuk mendekatinya. Karena itu pilih-pilih saja waktu yang tepat. Oh iya, bila diperdalam lagi mengenai nyamuk maka nyamuk tidak memiliki mata. Mereka berkomunikasi memakai antena yang ada dikepalanya untuk menangkap frekuensi disekitarnya. Selengkapnya bisa disimak pada rangkaian dibawah ini:
Komponen yang diperlukan dari rangkaian diatas adalah N1, N2, N3 = IC4011 dengan transistor tipe NPN biasa. Kemudian C1 = 100mkro Farad, C2=100nf, dan C3=10nf. Nah, silahkan dicoba ya
Rangkaian Elektronika Pengusir Nyamuk
ini
saklar infra merah switch.dengan alat ini berfungsi untuk mendeteksi sinar infra merah yang di pancarkan

remot

control sehingga alat ini dapat berfungsi sebagai saklar dengan bantuan relay untuk menghubungkan beban listrik apa bila anda berminat hubungi saya.
Yang dimaksud teknik pemindahan toner, adalah teknik membuat PCB dengan cara memindahkan gambar lay out atas sebuah rangkaian dari kertas glosi (kertas majalah) ke PCB polos pada sisi tembaga. Gambar lay out atas rangkaian pada kertas glosi pindah ke PCB polos (sisi tembaga) menjadi lay out bawah. Sebetulnya yang berpindah adalah toner-toner yang membentuk gambar lay out atas pada kertas, karena pengaruh pemanasan.
Sedang untuk membuat lay out rangkaian membutuhkan software bantu Eagle 4.11.
Berikut ini adalah cara membuat lay out rangkaian pada PCB dengan teknik pemindahan toner :
1) Cetak lay out atas rangkaian pada kertas majalah (glosi).
2) Gunakan printer toner seperti laser jet. Printer tinta tidak dapat digunakan untuk proses ini. Jika tidak memiliki printer toner, cetak gambar di atas kertas putih, kemudian gambar difoto kopi di atas kertas majalah, atau kalender, atau kertas foto, atau plastik transparan.
3) Untuk membuat lay out atas rangkaian gunakan program bantu seperti Eagle, atau DipTrace, atau PCB Artist.
4) Potong lay out atas yang sudah dicetak pada kertas dengan ukuran tepi 3 mm.
5) Potong PCB polos seukuran lay out atas.
6) Amplas atau kikir bagian tepi P
CB polos hingga halus.
Foto oleh Xaveria dan Lenny
7) Bersihkan permukaan PCB sisi
tembaga dengan amplas halus di bawah keran air.
Foto oleh Xaveria dan Lenny
8) Keringkan PCB, dan siapkan setrika listrik serta alas kain atau kertas putih.
9) Letakkan PCB diatas alas kain atau kertas polos dengan sisi tembaga menghadap ke atas. Taruh potongan kertas lay out atas rangkaian di atas PCB, dengan gambar menghadap sisi tembaga PCB.
10) Lapisi bagian atas potongan kertas dengan kain atau kertas putih. Agar sewaktu disetrika, gambar pada potongan kertas (majalah) tidak menempel pada setrika.
11) Tekan setrika di atas tumpukan PCB, gambar lay out atas, dan kain (kertas putih) selama 30 detik. Ini dilakukan agar gambar menempel pada sisi tembaga PCB.
Foto oleh Xaveria dan Lenny
12) Gosok setrika hingga merata pada seluruh permukaan PCB, khususnya bagian tepi PCB selama lebih kurang 4 menit.
13) Diamkan PCB hingga termperaturnya kembali normal.
Foto oleh Xaveria dan Lenny
14) Masukkan PCB ke dalam air, rendam lebih kurang 5 menit (untuk kertas majalah); untuk bahan kertas yang lebih tebal seperti kalender atau kertas foto, perendaman lebih kurang 10 hingga 15 menit.
15) Cabut atau lepaskan kertas majalah yang menempel pada PCB. Bersihkan bagian jalur yang masih bersinggungan atau lubang kaki komponen dengan cara digosok-gosok.
Foto oleh Xaveria dan Lenny
Hal-hal yang perlu diperhatikan sebelum membuat papan nama dari susunan LED,
1) Gunakan LED bening.
2) Warnai bagian atas PCB dengan warna gelap (hitam).
3) Perhatikan spesifikasi LED. Pada percobaan ini gunakan LED bening diameter 5mm
yang memancarkan warna merah, spesifikasi tegangannya sebesar 3 volt.
Cara pemasangan LED :
1) Satu huruf tersusun paling banyak 5 kolom dan 7 row.
2) Satu kolom paling banyak tersusun oleh 6 LED yang diseri.
3) Kemudian kelima kolom dihubung secara paralel.
4) Setiap kolom diberi hambatan, Rx, yang besarnya tergantung pada banyaknya LED dalam
satu kolom dan tergantung juga pada jenis LED (pada percobaan ini LED yang
digunakan berdiameter 5mm, bening dengan pancaran cahaya merah).
5) Pada kolom yang terdiri dari 6 LED, Rx = 330 ohm;
5 LED, Rx = 560 ohm
; 4 LED, Rx=680 ohm
Ingat, ketentuan ini berlaku untuk 5 mm LED bening pancaran cahaya merah.
6) Setiap huruf diberi penguat transistor FCS9013.
Berikut adalah skema satu huruf LED.
Sedang gambar di bawah ini adalah lay out atas papan nama 2 huruf. Untuk membuat papan nama 8 huruf, tinggal disalin dari yang 2 huruf ini
.
Berikut ini adalah lay out bawahnya.
Contoh susunan LED pada hur
uf A dan B :
Nilai Rx pada kolom pertama dan kelima (huruf A) sebesar 560 ohm, karena terdiri dari 5 LED yang tersusun seri. Rx pada kolom kedua, ketiga, dan keempat, sebesar 680 ohm karena terdiri dari 2 LED.
Rx kolom pertama huruf B, 330 ohm. Rx kolom kedua, ketiga, keempat, dan kelima sebesar 680 ohm.
Selamat mencoba ! Semoga SUKSES !
Kalau ada kesulitan bisa dibagikan di forum ini !
Rangkaian 8 LED berjalan adalah dasar untuk membuat 8 huruf LED. Sedikit berbeda dengan running LED dengan IC 4017 (decade counter), 8 running led ini menyala secara bergiliran, tetapi yang sudah nyala sebelumnya tidak mati ketika led setelahnya menyala. 8 led akan mati setelah led ke-8 menyala. Sedang pada running led (decade counter), sistem nyala led seperti "titik", hanya ada satu led yang menyala di antara kesepuluh led.
Komponen utama adalah IC 74LS164 (SHIFT REGISTER), dengan pewaktunya adalah rangkaian astable multivibrator (menggunakan IC NE555).
Rangkaian akan lebih berdaya guna bila menggunakan catu daya yang stabil (regulator) dengan menggunakan IC Regulator 7805. Dibawah ini skema rangkaian catu daya stabil 5 volt dc.
Gambar di bawah ini adalah lay out atas dan lay out bawah rangkaian 8 LED Berjalan, lengkap rangkaian catu daya stabil 5 vdc untuk rangkaian 8 LED Berjalan dan 15 vdc untuk rangkaian 8 huruf LED.
9. Rangkaian Astabil Multivibrator
Komponen utama rangkaian ini adalah IC 555 (timer). R1 dan C1 adalah komponen yang berperan sebagai pembentuk frekuensi gelombang persegi yang dihasilkan oleh rangkaian astabil.
Bentuk persamaannya :
Dibawah ini adalah rangkaian astabil dengan komponen utama IC 555 (ada astabil yang dibangun dari IC 4093 (schmitt trigger)).
Penghitung Digital Menggunakan 74LS90
Adalah rangkaian penghitung maju 0 s.d 9 dengan IC 74LS90 sebagai komponen utama. Jika pada kaki-kaki input IC (12, 8, 9, 11) berlogika 0, maka pada seven segment akan tampil angka 0. Rangkaian ini secara kontinu menghitung angka mulai dari 0 sampai 9, lalu kembali ke 0 dst.
Rangkaian ini sangat sederhana, hanya terdiri dari sebuah IC (74LS47), 7 buah resistor (150 ohm s.d 470 ohm) dan sebuah seven segment. Sangat cocok bagi siswa, mahasiswa teknik elektronika (tingkat 1), maupun hobis pemula.
Di bawah ini adalah susunan kaki pada seven segment common anoda (ca).
Angka 0 ditampilkan seven segment, jika input D (kaki 6), C (kaki 2), B (kaki 1), A (kaki 7) dihubung ke ground (jalur negatif bater). Atau dapat dikatakan secara
digital
D C B A = 0000.
LED dapat disusun menjadi sebuah huruf. Hubungan antar LED dapat dihubung secara seri ataupun paralel. Susunan LED yang ditampilkan pada gambar di bawah ini dihubung secara paralel.
Setiap huruf LED pada kaki katoda harus dihubungkan dengan kaki kolektor transistor C1815, sedang basis transistor dihubungkan ke resistor (470R). Kaki resistor yang lain dapat dihubungkan ke Output IC 4017 (kaki 3, 2, 4, 7, 10, 1, 5, 6, 9, 11).
Dancing LEDs
List Component of Dancing LEDs Circuit
R1: 10K 1/4W Resistor
R2,R3: 47K 1/4W

Resistors

R4: 1K 1/4W Resistor
R5,R6,R7: 100K 1/4W Resistors
R8: 820R 1/4W Resistor
C1,C3: 100nF/63V Ceramic or Polyester Capacitors
C2: 10µF/50V

Electrolytic Capacitor

C4: 330nF/63V Polyester

Capacitor

C5: 100µF/25V Electrolytic Capacitor
D1: 1N4148
D2-D11: LEDs (any type and color)
IC1: LM358
IC2: 4017
M1:

electret microphone

SW1: SPST Switch
B1: 9V PP3 Battery
Additional circuit parts:
R9,R10: 10K 1/4W Resistors
R11: 56R 1/4W Resistor
D12,D13 etc.: LEDs (any type and color)
Q1,Q2: BC327
Q3: BC337
Note:
The sensitivity of the circuit can be varied changing R4 value.
C4 value can be varied from 220 to 470nF in order to change the circuit speed-response to music peaks.
Adopting the additional circuit, only one item for R10, R11, Q1 and Q2 is required to drive up to ten LED strips. On the contrary, one item of R9 and Q3 is necessary to drive each of the strips you decided to use.
Each R9 input must be connected to IC2 output pins, in place of the LEDs D2-D11 shown. R8 must also be omitted.
Whishing to use a lower number of LEDs or LED strips, pin #15 of IC2 must be disconnected from ground and connected to the first unused output pin.
For example: if you decided to use 5 LEDs, pin #15 of IC2 must be connected to pin #1; if you decided to use 8 LEDs, pin #15 of IC2 must be connected to pin #9 etc.
Current drawing of the circuit is about 10mA.
Whishing to use a wall-plug adapter instead of a 9V battery, you can supply the circuit at 12V, allowing the use of up to 6 LEDs per strip, or at 15V, allowing the use of up to 7 LEDs per strip.
Speaker Protector sederhana
16. Rangkaian LED 220VAC Sebagai Lampu Penerangan